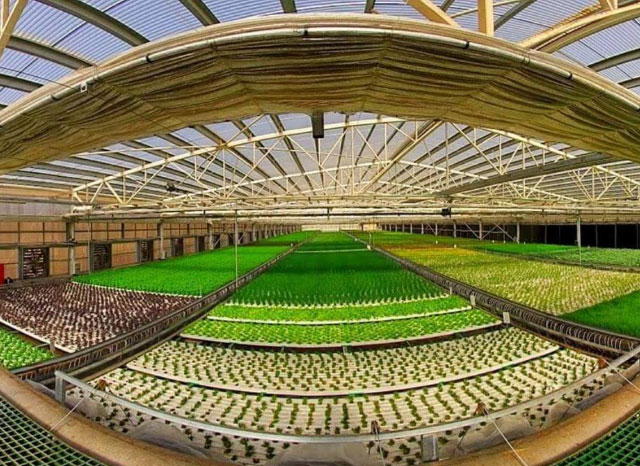 ---
Agricultural Miracle
"And I will bring them out from the people, and gather them from the countries, and will bring them to their own land, and feed them upon the mountains of Israel by the rivers, and in all the inhabited places of the country. I will feed them in a good pasture, and upon the high mountains of Israel shall their fold be: there shall they lie in a good fold, and in a fat pasture shall they feed upon the mountains of Israel. I will feed my flock, and I will cause them to lie down, saith the Lord GOD. I will seek that which was lost, and bring again that which was driven away, and will bind up that which was broken, and will strengthen that which was sick: but I will destroy the fat and the strong; I will feed them with judgment" (Ezekiel 34:13-16).
In these few verses the words "I will" appear seven times. Except for verse 1, chapter 34 consists of God's directly spoken words. It is a chapter that expresses both God's pleasure and contention with His people, particularly the failure of the shepherds, "Woe be to the shepherds of Israel that do feed themselves! should not the shepherds feed the flocks?" (Ezekiel 34:2b).
When reading verses 8-12, the words "my flock" and "my sheep" are listed eight times. God reveals Himself as the exclusive owner of His people, the Jews.
We may search from Genesis to Revelation, and we will not find a people identified as God's own exclusive property other than the people of Israel.
While the prophets, particularly the minor ones, proclaim unceasing judgment upon Israel, exposing their sins in detail, in the end we will find the promise of God. Hosea 14:4 reads, "I will heal their backsliding, I will love them freely: for mine anger is turned away from him." The last verse of Joel says: "For I will cleanse their blood that I have not cleansed: for the LORD dwelleth in Zion" (Joel 3:21). Amos declares: "And I will plant them upon their land, and they shall no more be pulled up out of their land which I have given them, saith the LORD thy God" (Amos 9:15). Micah had this to say: "Thou wilt perform the truth to Jacob, and the mercy to Abraham, which thou hast sworn unto our fathers from the days of old" (Micah 7:20). Zephaniah declares: "At that time will I bring you again, even in the time that I gather you: for I will make you a name and a praise among all people of the earth, when I turn back your captivity before your eyes, saith the LORD" (Zephaniah 3:20). That cannot be said about any other people on the face of the earth.
Modern Israel is now sixty-eight years old. They have gone through five major wars, and always emerged victorious. One should take special notice of the first war, the battle of independence. Eight Arab nations, fully trained and equipped, lost the battle against the poorly trained and equipped, rag-tag militia. In many cases the Israelis could not communicate with one another in Hebrew, since the bulk of the population were new immigrants.
Analyzing Israel's beginning, existence and future, one cannot come to any other conclusion than that God intervened supernaturally on behalf of His people. It is the "I will" of God for His people, "My flock."
Agricultural Miracle
Let us just quote a couple of verses to show God's supernatural intervention: "In that day shall thy mouth be opened to him which is escaped, and thou shalt speak, and be no more dumb: and thou shalt be a sign unto them; and they shall know that I am the LORD" (Ezekiel 24:27). "But ye, O mountains of Israel, ye shall shoot forth your branches, and yield your fruit to my people of Israel; for they are at hand to come…And I will multiply upon you man and beast; and they shall increase and bring fruit: and I will settle you after your old estates, and will do better unto you than at your beginnings: and ye shall know that I am the LORD…And they shall say, This land that was desolate is become like the garden of Eden; and the waste and desolate and ruined cities are become fenced, and are inhabited" (Ezekiel 36:8, 11, 35).
There are multiple reasons for Israel's agricultural success. Why do other Middle Eastern countries not show the same success as Israel? Through Egypt flows the mighty Nile, and through Syria and Iraq the great Euphrates. Israel's river, the Jordan, cannot be considered more than a creek.
When analyzing these matters carefully, one immediately must come to the conclusion: this is supernatural. The return of the Jewish people to a semi-desert land, being threatened by the well-established neighbor countries with destruction, yet coming out victorious is definitely not normal.
A recent article on Israel21c.org headlines its article, "Next-gen Israeli agtech turns a rooftop into a farm." Here are some excerpts:
On the rooftop of the Mishor Adumim industrial park in the desert between Jerusalem and the Dead Sea, an acre of herbs and lettuces provide employment for about 20 people representing the entire Israeli mosaic: Jews and Arabs, religious and secular, Israeli-born and immigrants.

"We all work together and value each other's contribution," says Bentsion Kabakov, a religious Russian immigrant who established the Aleinu Sustainable Aeroponic Greenhouse as a prototype six years ago.

Women in hijabs chat easily with Ethiopian-Jewish women in the packing and labeling room. Everyone from pickers to technicians works in a comfortable, air-conditioned environment and goes home at a set time every day.

In all its social, business and environmental aspects, this is truly a farm of the future.

The word aleinu in Hebrew means both "above us" and "our leaves," aptly conveying the concepts of rooftop farming and a shared sense of purpose.

Though rooftop and urban agriculture are becoming more widespread as the world's population centers shift to cities, the system created by Kabakov and fellow engineers from the former Soviet Union is one of a kind, explains Shelley Brinn of Tour Adumim.

The 25 different greens and herbs—such as basil, lettuce, kale, arugula, parsley, chives, thyme, sage, mint and oregano—are certified insect-free and meet stringent international quality standards.

Far fewer insects are attracted to an industrial rooftop than to a conventional farm. Aleinu uses natural pesticides sparingly, mostly relying on a patented system of various physical obstacles to prevent insects from coming into contact with the plants.

For now, the model farm sells three million packages of produce per year in Israeli supermarket chains.

"Neighbors, families and friends can get together and turn rooftops, yards, balconies and even flights of stairs into sustainable urban mini-farms. Our technology and equipment are safe, user-friendly and easily accessible," says Kabakov.
-13 June 2016
At this point technology is the key to the success of Israel, but based on the previously quoted Scriptures, the ultimate success is the "I will" of God for "My flock."
Midnight Call - 08/2016