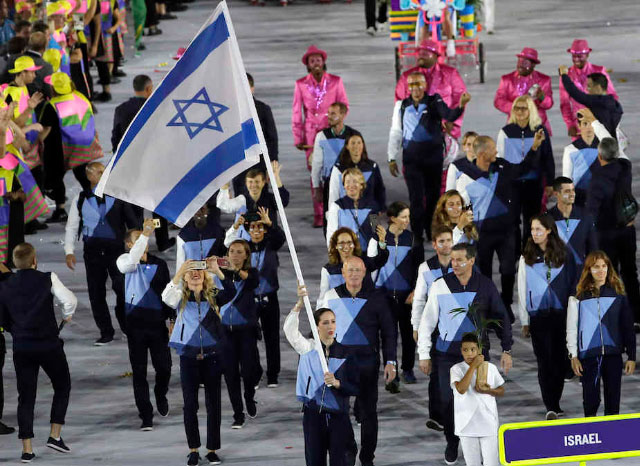 ---
When it comes to Israel, she is extraordinarily unique
"And thou shalt say unto Pharaoh, Thus saith the Lord, Israel is my son, even my firstborn" (Exodus 4:22).
Based on the eSword Bible program, the word "Israel" appears 2,575 times in our Bible.
In Moses' final speech to the children of Israel, he asks three profound questions: 1) "For ask now of the days that are past, which were before thee, since the day that God created man upon the earth, and ask from the one side of heaven unto the other, whether there hath been any such thing as this great thing is, or hath been heard like it? 2) Did ever people hear the voice of God speaking out of the midst of the fire, as thou hast heard, and live? 3) Or hath God assayed to go and take him a nation from the midst of another nation, by temptations, by signs, and by wonders, and by war, and by a mighty hand, and by a stretched out arm, and by great terrors, according to all that the Lord your God did for you in Egypt before your eyes?" (Deuteronomy 4:32-34).
The uniqueness of Israel goes back to the day God created man on earth. No other nation has heard the voice of God speaking, and no other nation has gone through such extensive hardship. Finally, Moses proclaims: "Happy art thou, O Israel: who is like unto thee, O people saved by the LORD, the shield of thy help, and who is the sword of thy excellency! and thine enemies shall be found liars unto thee; and thou shalt tread upon their high places" (Deuteronomy 33:29). One may simply brush these statements away with the words, "That's ancient history." True, but it is also true today.
Examples
A few months ago, the Olympic Games were held in Rio de Janeiro, Brazil. This is the time when each nation cheers on their team and shows dignity and respect for others, but not so where Israel is
concerned. Here is an excerpt from
washingtontimes.com:
"Shocking but not surprisingly, the Lebanese and Saudi delegations obviously have the wrong idea about the Olympic Games," said a statement by Roz Rothstein, CEO of the pro-Israel group Stand With Us.

"Instead of using the events to forget animosity and promote peace between people, they have brought their brainwashed minds to Rio," she said. "How unfortunate that they could not implement the good, peaceful intentions of the Olympics, and instead have used it as a forum to spread hate and continued rejection of peace."

The IOC issued a reprimand to the head of the Lebanese Olympic delegation after he blocked Israeli athletes from entering a bus that the teams were supposed to share to reach the opening ceremony.

Instead, Olympic organizers placed the Israeli athletes on a "special vehicle," said Israeli sailing team trainer Udi Gal.

Joud Fahmy of Saudi Arabia forfeited a first-round judo match in what the Israeli press described as a tactic to avoid facing Israel's Gili Cohen in the second round.

In June, Syrian boxer Ala Ghasoun refused to participate in an Olympic qualifying match against an Israeli, saying that to do so "would mean that I, as an athlete, and Syria, as a state, recognize the state of Israel."

"I quit the competition because my rival was Israeli, and I cannot shake his hand or compete against him while he represents a Zionist regime that kills the Syrian people," Mr. Ghasoun said in Arab media, according to Jerusalem's i24 News.

Israel's national soccer team and its clubs have to compete in the World Cup and the continental tournaments in Europe rather than Asia, as geography would dictate, because so many Middle Eastern countries refuse to play them.

Fans of the Israeli team were also indignant after Facebook failed to post the Israeli flag on its Olympics page. After a complaint by the Olympic Committee of Israel, the flag was added.
-10 August 2016
Interestingly, Syria is involved in a civil war with casualties estimated at over 400,000; Syrians killing Syrians mainly, yet this athlete, Ala Ghasoun, states: "…a Zionist regime that kills the Syrian people."
Egypt
In yet another exhibition of anti-Israel sentiment at the Rio Olympics, Egyptian judoka Islam El Shehaby backed away from Israeli athlete Or Sasson when the latter tried to shake his hand after their match.
Shaking the hand of the opponent or bowing is considered an essential part of the sport of judo, not to mention the global fellowship and sportsmanship that the Olympic Games stand for.
The Brazilian fans should be commended:
El Shehaby was immediately booed by the angry crowd when he refused to make either gesture; according to the Los Angeles Times, some extreme groups in Egypt had pressured the 34-year-old athlete to refuse to fight Sasson at all.
-virtualjerusalem.com, 12 August 2016
Jordan
Jordan, another Arab country with a signed peace treaty with Israel, continues to lambast Israel's right to the historical geographic area called the Temple Mount.
King Abdullah of Jordan has expressed outrage that 400 Jews visited the site of the two Holy Temples on the Temple Mount. His statement of fury ignored the simultaneous Moslem provocations and violence.

"We continuously struggle with repeated strikes carried out by Israel and extremist organizations in Jerusalem," the king stated, "as well as with the attempts to change the status quo in the city. We will stand fast against any attempt to harm our holy places or to divide the Al-Aqsa mosque [in terms of] area or prayer times."

Knesset Members have not been allowed to visit the Mount in recent months, by order of Prime Minister Benjamin Netanyahu. Some MKs requested to visit on [the] day of national mourning, but Netanyahu did not accede. MK Yehuda Glick (Likud), a long-time Temple Mount activist, sat outside the entrance to the Mount and recited Tisha B'Av dirges with several other worshipers.
-virtualjerusalem.com, 15 August 2016
Only in Israel! All other countries brutally subjected, even exterminated enemies, whether in Europe, Asia, Africa, or the two new continents, America and Australia. The original inhabitants were either outright killed or their children interned in government indoctrination facilities. That, friends, was the normal procedure throughout the centuries, but now that the Jews are returning to the land of their fathers, the world continues to turn against Israel. We reiterate: there are no exceptions. ALL nations of the world stand in opposition to God's elected nation. That is clearly documented in Holy Scripture. "I will also gather all nations, and will bring them down into the valley of Jehoshaphat, and will plead with them there for my people and for my heritage Israel, whom they have scattered among the nations, and parted my land" (Joel 3:2).
Midnight Call - 10/2016