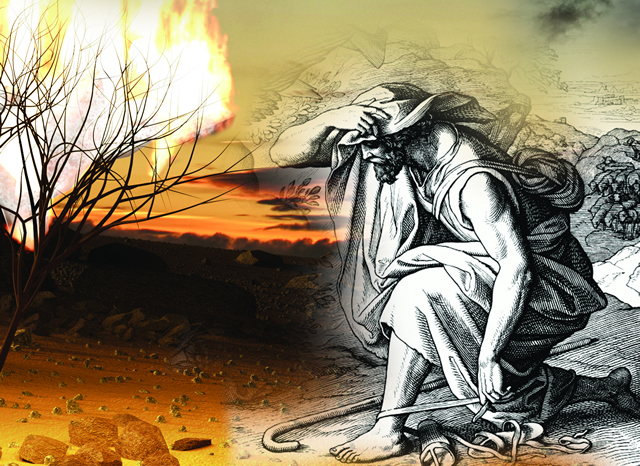 ---
The Burning Bush: A Model of Israel's Future Salvation – Part 2
As we contemplate this bush, could there be a more fitting image in the wilderness than the one God chose?
The bush is a type of Israel. A small and despised people, they never presented any noble fruit to their God, only thorns. The other peoples simply regarded Israel as a meaningless bush in the desert. If you come
too close, you'll only get pricked.
But God prepared salvation for this people, and chose a bush in the desert to begin this plan. How would we go about it? We as humans are inclined to splendor and excess, in a big display of power. But God chose the things that are despised and worthless to the world (1 Cor 1:27-28).
Do you sometimes feel unworthy? Do you perceive yourself as incapable? Do you feel akin to this useless bush? At the very moment we see we are actually worthless and despised, we turn out to be the perfect tool for God. He wants to use us! God spoke from the insignificant and trifling bush. That is exactly how He wants to speak through you.
Through this bush, God showed His choice of Israel—a blind, deaf, and stiff-necked people—as a witness among the nations, as the bearer of all of God's revelation to mankind. Someone once said, "Culture comes from the Gentiles; Salvation comes from the Jews."
God revealed Himself then, is revealing Himself today, and will continue to do so in the future, in the "bush"—in Israel. And yes, this bush will not burn. Such a fitting image of the greatest miracle of world history: the preservation of the small nation of Israel. It's like the burning bush in the desert, in the land of the nations. It was and is persecuted, oppressed, driven out, cattered … but this people has never burned. Israel must not perish. God has His plan!
Its language, Hebrew, has survived, even though this patch of land in the Middle East was not in possession of a Jewish state for a long time. Even though the people are without a temple, without actual religious life. Not even an alliance of all nations against the people of God will be able to harm Israel. Israel survives. God has always preserved it. It will even survive Armageddon.
Shortly after the founding of the state in 1948, when Ben-Gurion proclaimed Israel's independence, there was a massive headwind. Israel didn't even have an intact army. And yet the state did not burn. In this context, the Six-Day War is worthy of special mention.
In 1967, the situation was escalating with regard to attacks from Sinai and Gaza, and shipping and trade routes in the Straits of Tiran. Almost everyone was against Israel, particularly Egypt, Jordan, and Iraq. The Egyptian Air Force looked very strong at the time. Israel began necessary preemptive air strikes against them, as this simmering conflict became increasingly dramatic. What's impressive is that Israel had been planning for this scenario for the previous 16 years! Information from intelligence and years of reconnaissance made it possible. The plan's smallest details were repeatedly tweaked and improved (for example, variables such as morning fog or the time difference in Egypt). It was also a logistical tour de force of such magnitude that Israel achieved aerial victory within 170 minutes. Israel managed to keep planes in the air non-stop. In his resignation speech, the Egyptian president ultimately stated that the Israelis had roughly tripled the size of their air force. What a miracle! Not burned!
The Jewish people are so oppressed, yet consider their vitality, their zeal, and their success, even today. Another example from the field of agriculture: A palm tree in Israel yields an average of 182 kg (400 lbs.) of fruit, whereas the average for the Middle East is 70 kg (150 lbs.). The milk yield from Israel's cows is the highest in the world, and double the European average.
Out of the bush—Israel—the living God reveals Himself. Who perceives it? Who's looking? Who still realizes the miracle that is Israel's very existence?
God's appearance in the burning bush was so clear that Moses went forth. God is actually clearly working through Israel, but no one is looking! There is no better key to discerning God's hidden ways with mankind than Israel.
Is everything in your life also ablaze? Is there suffering, illness, pressure? Israel is an encouragement to us. In the same way God is accomplishing His purpose with Israel, He will for each of us who is sealed with the Holy Spirit.
Speaking from the bush to Moses, God said:
"I HAVE COME DOWN…"
God saw the Israelites' suffering under the Egyptians (Exod 3:7). He heard their cries. He knew their pain. And God said, "I have come down to deliver them!" (v. 8). His coming down is the necessary means of ful-
filling His plans for His people. God must intervene Himself. People can't.
Here we are introduced again to God's thoughts of His kingdom with Israel for the blessing of other nations. God sees everyone. And in that regard is, of course, the culmination of Scripture: Jesus coming to earth. The Old Testament people of God, Israel, are described to us as a people who are waiting for the One to come. At the first coming the Lord was rejected, as Moses was then. There was no change. That's why Israel is still waiting. At the second coming, Christ appears in order to remain and bring heaven to earth: the messianic kingdom in and with Israel.
We as the body of Christ also await His coming. But are we aware that, alongside Israel and the Church, all mankind and creation are also waiting? Everything is waiting! Yes, this tired and torn world of nations is waiting. The peoples don't know for whom they're waiting, but they're waiting.
And Christ Himself is waiting to return: Christ "sat down at the right hand of God, waiting from that time until his enemies should be made a footstool for his feet" (Heb 10:12-13). He's waiting for the heavens to be rolled back like a scroll (Rev 6:14), when He will finally return. And we the Church, as the body of Christ, await His coming at the Rapture. We will be caught up in the air and united with Him, the body to the head. Paul tells us so in his letters to the Thessalonians. Those of us in the current redemptive age are His body, made up of Jews and Gentiles. God is advancing His plan of salvation along various tracks,
which will converge at the end (cf. Eph 1:23).
Only Jesus Christ brings change. That's also true in the life of every individual. Everything will be restored when He comes. He will rescue His people out of their distress, which will be worse than the situation under Pharaoh. Israel will once again enter into a relationship with the Lord. The Lord will actually establish a "new world order" with Israel; namely, one that is pleasing to God. As long as the devil is the prince of this world, nothing will change, despite the efforts of unions and political parties. But Jesus Christ will unseat Satan as the prince of this world. Then the Prince of Peace will take the wheel. The royal robe will be upon His shoulders. The Wonderful Counselor, Everlasting Father, Prince of Peace, will reign. In a word, the kingdom of Israel. The return of Jesus is the key. Then Israel will be able
to become a blessing to all peoples, and present noble fruit.

Back to the bush. God continues, telling Moses:
"NOW THEREFORE GO"
According to the whole context of Scripture, Moses must be sent again after his rejection, since Moses represents Christ. And so God says, "Come, I will send you to Pharaoh that you may bring my people, the children of Israel, out of Egypt" (Exod 3:10). Here in Moses we see on a small scale, the forthcoming return of Jesus.
From the burning bush comes the voice of God, which both promises Israel's salvation and initiates it. And what does Moses do? He was obedient like Christ. He then encountered Aaron, his brother. God had fetched Aaron from Egypt and called him. He reached Moses at Mount Horeb and kissed him (Exod 4:27). They were to lead Israel out of Egypt together.

Let's examine this assignment figuratively. With regard to Jesus' second coming, prophetically speaking, we can say that Aaron had a divine calling, having previously been led out of Egypt and to Moses. In other words, Aaron was brought out of the world before the coming Messiah. And so it is with the Church, Christ's body. We will be caught up from the world to be together with Him in the clouds. This is the Rapture. After that, we return with Christ as His body, to save God's people from their distress. Aaron then is a reflection of the Church as the body of Christ. According to the New Testament, she is also called to take part in God's great concept of the kingdom through judgment and governance.
When Moses and Aaron returned to Egypt, this signified judgment for anti-Semitic, idolatrous Egypt: Ten bowls were poured out (cf. Revelation 16), the ten plagues. The tenth was the extermination of all firstborn, and the Israelites had only one hope: the blood of a spotless lamb painted on the doorposts. The angel of judgment spared these houses as it passed by. This time, Israel believed the words of God, trusting in the blood (Exod 12:27-28). And it will be the same with Israel's future redemption. The blood of Jesus that flowed onto the wood is the bottom line.
The Jewish people, who still boast in the Exodus from Egypt, will one day see the parallels between then and now. And when Israel comes to faith, they will see that everything that happened back in Egypt was a small foreshadowing of the much greater Messiah.
"You will say in that day: 'I will give thanks to you, O LORD, for though you were angry with me, your anger turned away, that you might comfort me. Behold, God is my salvation; I will trust, and will not be afraid; for the LORD GOD is my strength and my song, and he has become my salvation.' With joy you will draw water from the wells of salvation. And you will say in that day: 'Give thanks to the LORD, call upon his name, make known his deeds among the peoples, proclaim that his name is exalted. Sing praises to the LORD, for he has done gloriously; let this be made known in all the earth. Shout, and sing for joy, O
inhabitant of Zion, for great in your midst is the Holy One of Israel'" (Isa 12:1-6).
News from Israel - 07/2023