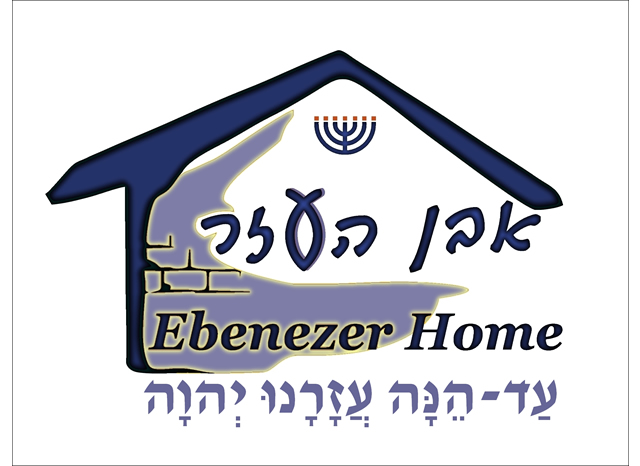 ---
The Ebenezer Home – Haifa, Israel
By clicking the button below you can make a gift of any amount using PayPal's secure payment portal.
"And let us not be weary in well doing: for in due season we shall reap, if we faint not. As we have therefore opportunity, let us do good unto all men, especially unto them who are of the household of faith." Galatians 6:9-10
Ebenezer Senior Citizen's Home – Haifa
Our History
The Ebenezer Home was founded in 1976 by Pastor Solheim (who worked with Richard Wurmbrand with Voice of the Martyrs). The need for the Ebenezer Home was first realized when there was a high demand for care of the elderly and frail Jewish immigrants, who were now coming back to their homeland from the Diaspora. Who would tenderly and lovingly care for these new immigrants, many of whom were Holocaust survivors, still grappling with what they had recently gone through? In 1976, the vision and birth of the Ebenezer Home became a reality.
The name "Ebenezer" has a special meaning. It comes from 1 Samuel 7:12, which says: "And Samuel took a stone, and set it up between Mizpah and Shen, and he called it Ebenezer, and said, 'Until this day the Lord has helped us.'"
This name bears witness to our faith in God's goodness, and the fact that He will continue to care for us in the future, as He has in the past. Since 1976, many elderly believers in Israel found a home in Ebenezer, where their spiritual, emotional, and physical needs could be met.
In Israel, whether from Jewish, Arab, or other backgrounds (even for Holocaust survivors), it's often very difficult being a believer in Yeshua. Sometimes you find yourself the only believer in your entire family. At the Ebenezer Home, we have witnessed countless testimonies of residents being disowned by the very people they loved most. As younger adults, this is hard, but even more so for the elderly. Being surrounded by fellow believers and sharing life and faith together, with daily encouragement in the Lord, often makes all the difference in the world to these precious believers. For many, being placed in another home that is not supportive of their faith in Messiah, results in them becoming depressed, disheartened, and discouraged: feeling alone and isolated during a time when they are vulnerable and need help the most. Your support enables us to provide the loving home and care they desperately need.
It is worth taking the time to listen to their stories. They will make you laugh and weep, and give you a deeper understanding of the words of Jeremiah the prophet: "Behold, I will gather them out of all countries, whither I have driven them in mine anger, and in my fury, and in great wrath; and I will bring them again unto this place, and I will cause them to dwell safely" (Jeremiah 32:37).
The Ebenezer Home longs to do just that…provide elderly believers with a safe and loving home, where they will not just survive but thrive.
Enlargement Project
With the vision of taking care of the elderly, Ebenezer saw it necessary to enlarge and renovate the home (and through this, meeting the required new standards for nursing homes in Israel). There is a growing need for more nursing wards, especially for believers who want to spend their last days in a home with Christian and biblical values. The Ministry of Health and Welfare has encouraged us to go ahead and submit plans, since they respect and value our care.
Why is the Ebenezer Home so important?
Many turn to Ebenezer for help, understanding that physical care is only one aspect of their care; just as important is their need to be supported emotionally and spiritually. But what many don't realize is, right now in Israel, the Ebenezer Home is the only senior citizens' home where both residents and staff are believers in Yeshua! This is very special, but it's also a tremendous responsibility. The Home continually strives to meet the ever-growing needs of the believing community—which, praise the Lord, is growing by the day! But we need your help.
If not Ebenezer, then who?
If Ebenezer does not step up and fulfill this growing need for the elderly believers in Israel, then who will? Where will the last of the older, fragile, surviving Holocaust believers go? Who will care for the second-generation Holocaust survivors, who have been traumatized by all that their parents went through? What about the other non-Jewish Christians and Christian Arabs? If not Ebenezer, who will care for them? It would mean placing these older Christian believers in a home that is not supportive, where they won't be surrounded by those of the same faith. What then? Where else in Israel will you find Jews and Arabs living together in peace: sharing their meals, their faith, and living in reconciliation through Messiah? What a blessing!
Why does Ebenezer need to upgrade their facility?
Presently, Ebenezer is licensed only as an assisted living facility, which means by Israeli law, we're not allowed to accept the elderly believers who already require nursing care. This poses an enormous problem for those who suddenly find themselves in need of nursing care, or whose families can no longer care for them. Although Ebenezer has the needed doctor and nurses on staff, until we upgrade our facility to meet the nursing ward/home requirements, we can only have a certain percentage of residents who require nursing care, unless the Ministry of Health grants us special permission. Upgrading from an assisted living facility to a nursing ward/home, would ensure we could always accept and care for the aging believers, regardless of their medical needs. Meeting the required nursing home standards is a crucial reason for renovating the home.
In the meantime, while we wait for all bureaucracy issues to be resolved, we work on required projects to keep the Home up and running.
Will you join us so we can continue to provide these believers with a loving, safe, faith-based home, where they can live and thrive in their relationship with our Messiah Yeshua?
We need your help!