The Trials of the Apostle Paul - Part 4

Dr. Ron J. Bigalke

"God helps those who help themselves" is an assertion often attributed to the Bible, yet the saying is most certainly not found in the pages of Scripture.

The Focus of Revelation: Part 1

Norbert Lieth

Revelation is a book of hope. Hope means blissful anticipation. The victorious Lord will certainly come back, and the kingdom of God will certainly be established.
---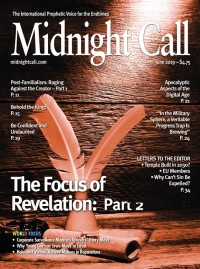 Midnight Call June 2019
• The Focus of Revelation
• Behold the King!
• Apocalyptic Aspects of the Digital Age
• "In the Military Sphere, a Veritable Progress Trap Is Brewing"
• Post-Familialism: Raging Against the Creator
---