The Last Prayer in the Bible – Part 2

Norbert Lieth

The return of Jesus will bring the final and visible redemption to all those who believe in Him. His return will usher in the completion.

Beware of "Dogs"

Nathanael Winkler

Who are the "dogs" that Paul is talking about? Dogs were different at that time from those we know today.
---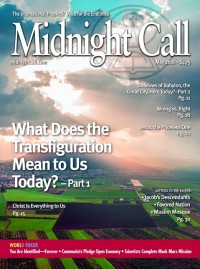 Midnight Call May 2018
• What Does the Transfiguration Mean to Us Today?
• Jesus, the Priceless One
• You Are Identified—Forever
• Shadows of Babylon, the Great City, Here Today?
• Time Did Not Begin with Big Bang
---