The Value of Dirt

Dr. Ron J. Bigalke

Elisha healed Naaman of leprosy, and thus he offered a gift to the prophet as appreciation for the healing. Elisha refused any payment.

Religious Bible Criticism: Part 1

Michael Kotsch

It isn't just so-called "liberals" who attack the Word of God. Bible-critical thinking is often hidden behind pious phrases, religious traditions, and supposed spirituality.
---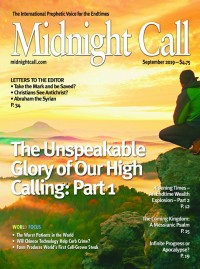 Midnight Call September 2019
• The Unspeakable Glory of Our High Calling
• Ripening Times – An Endtime Wealth Explosion
• Infinite Progress or Apocalypse?
• Why We Aren't Yet in Heaven
• Why Should We Concern Ourselves with Biblical Prophecy?
---