The Message of Joel – Part 3

Dr. Ron J. Bigalke

Terrorists kill their enemies in the name of their god. God's people are instructed to love their enemies and "do good to those who hate you" (Luke 6:27).

Is the Christian West Perishing?

René Malgo

Today it's worse than ever before in world history. Society is forsaking Christianity. Destruction is lurking just around the corner. Really?
---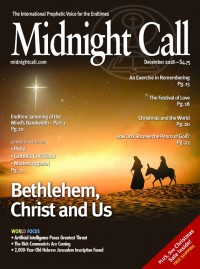 Midnight Call December 2018
• Bethlehem, Christ and Us
• The Festival of Love
• Christmas and the World
• How Do I Receive the Peace of God?
• Endtime Jamming of the Mind's Bandwidth
---