Poor, and Yet Rich

Wim Malgo (1922-1992)

People want to conform to today's social system, with all its crazy demands. But depending on financial, earthly things—on wealth—always results in spiritual poverty.

What's Important Now

Sebastian Gruner

Perhaps you have been devastated by oppressive circumstances. God's Word offers encouragement of the Lord's care for His own, especially when repentance is appropriate.
---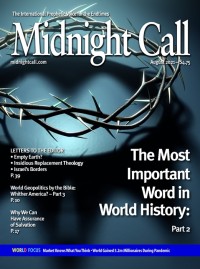 Midnight Call August 2021
• The Most Important Word in World History
• Modern World History Told by the Bible
• Is Hell Eternal?
• Why We Can Have Assurance of Salvation
• The Lord Knows Where We Dwell
---