Christ in His Church

Wim Malgo (1922-1992)

What does John see when he turns around? Before he sees the glory of the person Jesus, John first sees the church!

Lockdown and the Most Important Thing in Life

Reinhold Federolf

As a result of the coronavirus pandemic, completely new or long-forgotten questions have emerged. What's essential, what's incidental, and what's the most important thing in life?
---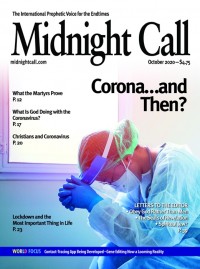 Midnight Call October 2020
• Corona…and Then?
• What Is God Doing with the Coronavirus?
• Christians and Coronavirus
• Lockdown and the Most Important Thing in Life
• The Rapture Chronicles – What the Martyrs Prove
---