The Message of Jonah – Part 4

Dr. Ron J. Bigalke

Hatred and prejudice will always result in disregard for God's loving plan of salvation, with destruction and vengeance being the outcome.

What the Coronavirus Is Making of Us

Thomas Lange

I've observed a few things about us Christians. Some of them make me reflect. Others are cause for joy. One thing is now clear: The past year has done something to us and our churches, and may still be doing it.
---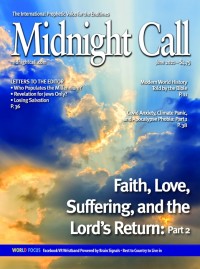 Midnight Call June 2021
• Faith, Love, Suffering, and the Lord's Return
• Modern World History Told by the Bible
• Should Christians Get Vaccinated?
• Why Christians Suffer
• Covid Anxiety, Climate Panic, and Apocalypse Phobia
---