The Mystery of the Next Step of Faith

Wim Malgo (1922-1992)

Life in Pergamos demanded letting go of Jesus' name, because Satan lived there. But Satan cannot withstand a confrontation with Jesus' name. This is the tremendous struggle we're facing.

The Church: God's New Dwelling Place

Rainer Wagner

The Apostle Paul explains that the "last days" will be characterized by "perilous times." What does that mean when we consider the state of affairs in society today?
---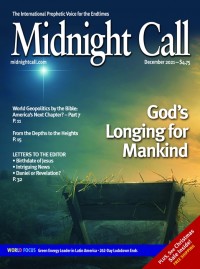 Midnight Call December 2021
• God's Longing for Mankind
• America's Next Chapter?
• How Can I Discern God's Will for My Life?
• Did you know that you are God's much-wanted child?
• Eyes Like Fire and Feet Like Brass
---