Israel's Threefold Exodus – Part 1

Arno Froese

God is the originator of all things, and He in His wisdom chose one man through whom He intended to bless all the families of the earth. That man was Abraham.

Is God a Zionist? – Part 2

Reinhold Federolf

Zion not only means Jerusalem or Mount Zion, but encompasses the whole country and the people living there.
---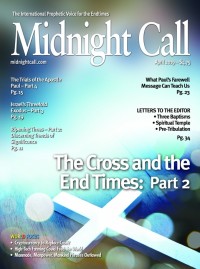 Midnight Call April 2019
• The Cross and the End Times
• The Trials of the Apostle Paul
• Israel's Threefold Exodus
• Ripening Times – Discerning Trends of Significance
• Cryptocurrency to Replace Cash?
---