Be Confident and Undaunted

Wim Malgo (1922-1992)

Discouragement drives away faith. It is one of the enemy's arrows against us. Being discouraged means not looking far enough.

Behold the King!

Dr. Ron J. Bigalke

The Lord of the Rings is not a Christian allegory; rather, it is an invented myth incorporating biblical truths.
---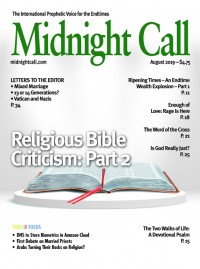 Midnight Call August 2019
• Religious Bible Criticism
• Ripening Times – An Endtime Wealth Explosion
• The Revelation of the Returning Lord
• The Two Walks of Life
• Is God Really Just?
---