The Destruction of the Temple During the Great Jewish Revolt

Fredi Winkler

Today, we often interpret the prophecy in Daniel 9:26-27 as something that will occur in the future. But if you consider the historical and chronological course of the war, then it becomes clear that this prophecy was actually completely fulfilled in the Revolt.

The Gaza War

Arno Froese

We are living in the end stages of the end times.
---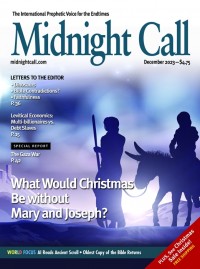 Midnight Call December 2023
• What Would Christmas Be without Mary and Joseph?
• Levitical Economics: Multi-billionaires vs. Debt Slaves
• Crossing the Jordan River
• Biblical Answers to Why Jesus Hasn't Yet Returned
• SPECIAL REPORT: The Gaza War
---