Keep Jesus in the Center—Despite Coronavirus

Michael Kotsch, Wilfried Plock, Matthias Swart, and Marco Vedder

Over the last few months, we've been watching the developments in many Christian churches with great concern. A call to action.

Why Israel? Part 1

Norbert Lieth

Have you ever wondered why tiny little Israel, of all places, occupies so much space in the media? A biblical look behind the scenes.
---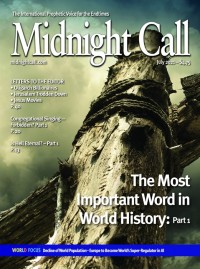 Midnight Call July 2021
• The Most Important Word in World History
• Modern World History Told by the Bible
• Is Hell Eternal?
• Waiting for Jesus? Determining Where You Stand
• What Is the Lord's Double-edged Sword?
---