The Message of Joel – Part 1

Dr. Ron J. Bigalke

The purpose of this article is not to discuss the political and social implications that arise among different faiths cooperating in one society; rather, the intent is to address the more urgent matter as to the question of salvation, and whether any of the various world religions is truthful.

Resisting End Time Pressure to Conform – Part 1

Dr. Rolf Sons

How does the Christian faith remain identifiable in a world that doesn't consider itself Christian? How can it be recognizable and strong in a time that is increasingly turning away from Christian subject matter and values?
---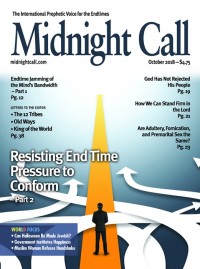 Midnight Call October 2018
• Resisting End Time Pressure to Conform
• God Has Not Rejected His People
• How We Can Stand Firm in the Lord
• Are Adultery,Fornication,and Premarital Sex the Same?
• Can Halloween Be Made Jewish?
---