Lost Control?

Fredy Peter

Everything that was previously under control is now out of control. Because of the coronavirus, the world is being gripped by an insecurity and fear that hasn't been felt since the two World Wars swept the globe.

The Exalted Lord, Gracious and Just

Wim Malgo (1922-1992)

It is no longer the head on which the crown of thorns lies, covered with blood and wounds, disfigured by disgrace and torture. Rather, John describes the highest glory with the simplest expressions.
---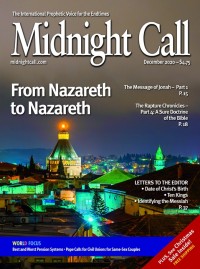 Midnight Call December 2020
• From Nazareth to Nazareth
• The Advent Season as a Mirror of Redemptive History
• The Message of Jonah
• Thoughts on Advent
• The Rapture Chronicles
---