Lost without Christmas

Samuel Rindlisbacher

The days of Advent are actually a time of joy. We remember the birth of our Lord and Savior Jesus Christ.

"Jesus Is Coming Soon" – Only After 2,000 Years?

Karl-Heinz Vanheiden

Do Matthew 10:23, 24:34, Mark 9:1, 1 Thessalonians 4:17, 1 Corinthians 15:51, 1 John 2:18 and Hebrews 10:37 show that our Lord Jesus and the apostles prophesied the second coming for their time, and were therefore mistaken?
---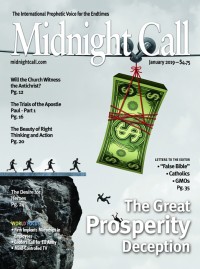 Midnight Call January 2019
• The Great Prosperity Deception
• Will the Church Witness the Antichrist?
• The Trials of the Apostle Paul
• The Desire for Heroes
• Amazon Sets Trap for Drivers
---