Praying Curses: Imprecatory Psalms

Dr. Ron J. Bigalke

Imprecatory psalms could also be classified as individual laments. They manifest a specific perspective with regard to life and the world.

Living in Imminent Expectation

Norbert Lieth

Can we count on the second coming of Jesus within our lifetime? What does the Bible say about it? Is it mere speculation, or a fundamental necessity?
---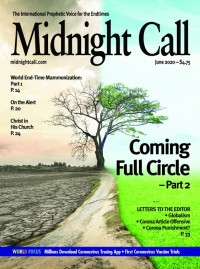 Midnight Call June 2020
• Coming Full Circle
• On the Alert
• Christ in His Church
• Mossad Helps Fight Coronavirus
• First Coronavirus Vaccine Trials
---