Jesus, the Priceless One

Laszlo Dalnoki

What the most expensive painting in the world can tell about our life and priorities.

Christ Is Everything to Us

Samuel Rindlisbacher

Paul wished to cling to Jesus after he had been conquered by Christ. If I want to take hold of Jesus, I have to learn to subject all my thoughts, my feelings and my desires to the cross of Jesus.
---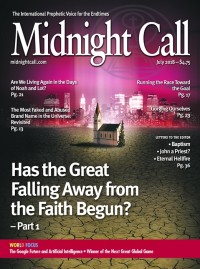 Midnight Call July 2018
• Has the Great Falling Away from the Faith Begun?
• Running the Race Toward the Goal
• Are We Living Again in the Days of Noah and Lot?
• Gorging Ourselves
• Five Robots Replace Seven Employees
---