God Has Not Rejected His People

Norbert Lieth and Johannes Pflaum

This year, the modern Jewish state celebrated its 70th anniversary. Israel, surrounded by enemies, hated by the world, is a miracle of God. The role of the Old Testament people of God in the history of salvation today will be set forth in this article.

The Message of Joel – Part 2

Dr. Ron J. Bigalke

The purpose of this article is not to discuss the political and social implications that arise among different faiths cooperating in one society; rather, the intent is to address the more urgent matter as to the question of salvation, and whether any of the various world religions is truthful.
---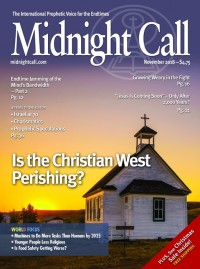 Midnight Call November 2018
• Is the Christian West Perishing?
• What a Revived Brain-Dead Patient Reveals about Organ Donation
• Growing Weary in the Fight
• "Jesus Is Coming Soon" – Only After 2,000 Years?
• Machines to Do More Tasks Than Humans by 2025
---