Christmas in Prophecy - Part 1

Arno Froese

We will not concern ourselves with the right and wrong, the timeline, or the often-mentioned association with pagan holidays.

What's the Point of Suffering?

Norbert Lieth

Job's suffering provides a divine answer to the individual suffering of mankind. Why did the righteous Job have to suffer so much?
---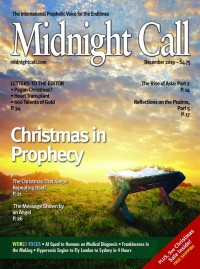 Midnight Call December 2019
• Christmas in Prophecy
• The Christmas That Keeps Repeating Itself
• The Message Shown by an Angel
• AI Equal to Humans on Medical Diagnosis
• The Rise of Asia
---