Does Israel Need the Gospel? – Part 2

Avi Snyder

The people of Jesus' time had a false conception of the Messiah, and people today have a false conception of God. The result of that time should serve as a warning to us today.

JESUS: The Great Unknown

Wim Malgo (1922-1992)

Even in the Christian world, our Lord Jesus Christ is still the Great Unknown.
---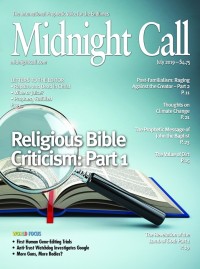 Midnight Call July 2019
• Religious Bible Criticism
• The Revelation of the Lamb of God
• Thoughts on Climate Change
• The Prophetic Message of John the Baptist
• Post-Familialism: Raging Against the Creator
---