Does Israel Have a Future? – Part 3

Norbert Lieth and Johannes Pflaum

It's incomprehensible today that replacement theology advocates are stubbornly sticking to their guns, when Israel is obviously at the center of world events.

The Purpose of the Letter to Sardis

Wim Malgo (1922-1992)

The church in Sardis was apparently unaware of the big lie they were living, just as many people now don't know that their life of faith is an illusion and thus a lie.
---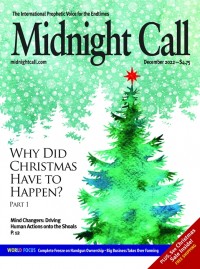 Midnight Call December 2022
• Why Did Christmas Have to Happen?
• A Candle's Message
• Pursuing Generosity
• Mind Changers: Driving Human Actions onto the Shoals
• Was Jesus Really Born in a Stable?
---