Capernaum: The Lord's Own City

Dr. Ron J. Bigalke

Capernaum became known as the Lord's "own city" and is featured prominently as a location from which Jesus accomplished much of His public ministry.

How Much Longer, Lord? – Part 2

Fredy Peter

How much longer, Lord? How long will the righteous be oppressed and persecuted? Why isn't the Lord intervening? Because it is still a time of grace!
---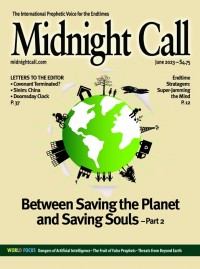 Midnight Call June 2023
• Between Saving the Planet and Saving Souls
• Herodium: God at Work in the Desert
• Extreme Weather as a Sign of Climate Change
• The Overcomers of the Philadelphia Church
• Dangers of Artificial Intelligence
---