Time for PAUSE

Dr. Ron J. Bigalke

The final description of Christ in relation to one of His churches is that of seeking entry. Do you name Christ as Savior, yet exclude Him? The possibility of such indifference and self-sufficiency, demanding Christ's discipline and rebuke, is certainly reason for pause.

God Has Something Greater in Mind

Norbert Lieth

God's greater plan is the Messiah's reign on earth. And God included humanity in this plan; that is man's destiny. Although man is lower than the angels, God has given him dominion over the earth.
---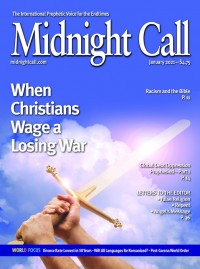 Midnight Call January 2021
• When Christians Wage a Losing War
• Racism and the Bible
• The Prophet Jonah and the Coronavirus
• The Gift of Unsearchable Riches
• The First Love
---