Israel's Threefold Exodus – Part 3

Arno Froese

The Third Exodus is totally unique and incomparable to the previous two. When they came from Egypt, they were well-compensated with gold, silver, precious stones, and other valuables.

The Trials of the Apostle Paul - Part 4

Dr. Ron J. Bigalke

"God helps those who help themselves" is an assertion often attributed to the Bible, yet the saying is most certainly not found in the pages of Scripture.
---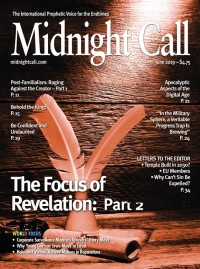 Midnight Call June 2019
• The Focus of Revelation
• Behold the King!
• Apocalyptic Aspects of the Digital Age
• "In the Military Sphere, a Veritable Progress Trap Is Brewing"
• Post-Familialism: Raging Against the Creator
---